——————————————————
Offer on the Best Booty Call Site 
Special offer Alert! Until The Biggest Social Network www.BootyCall.com is FREE! Launched by the giant of amateur porn, it will allow you to chat and exchange via webcam with girls who are looking for HUMBALS like you and couples looking for guys for threesomes. As soon as you register:
You will create your profile for free
You will chat with girls who are looking for contacts only for FUCKING
You will take part in libertine evenings with swinger couples
You will benefit from the features adapted to the Sexcam and Webcam Dating
Take advantage of this offer, Soon  www.BootyCall.com will be closed to men
New Profiles Connected on BootyCall.com
There are only 4 spots available
I'm taking advantage of the Sex Dating Offer
——————————————————
We have already talked about hacking for dating sites but not yet about hacking for escort girl sites. A Moroccan hacker working under the pseudonym EISurveillance decided to attack British escort girl sites to take them out of service. His hashtag on twitter : #EscortsOffline
Escort girl vs Muslim conviction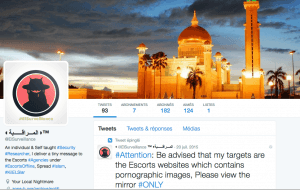 EISurveillance claims that he hacks escort girl sites because they are in contradiction with his Muslim faith. In his words, Allah gave bodies to men and women to take care of, not to destroy them, so he decided to make it impossible to connect customers and escorts by destroying specialized websites.
Next step: revelation on escorts and clients
According to the British press, EISurveillance could move up a gear by revealing the exchanges between prostitutes and clients or even by revealing the identities of men using escort girls services. Nearly 100,000 exchange records were allegedly hacked by the hacker. In the meantime, webmasters of escort sites are teaming up on specialized forums to try to secure their sites and prevent further hacks. For the moment EISurveillance has not attacked any French escort site but, technically, nothing will prevent it from moving to the French market when it is done with the British sites.
Latest posts by Guillaume
(see all)