In the internet of transsexual lovers, the plantrans site occupies a prominent place. With its operation between the chat and the forum, it connects trans people with those who fantasize about them. And beyond transsexuals, PlanTrans is also aimed at transvestites.
An explicit site dedicated to trans and transvestite lovers
When you arrive on PlanTrans, you are asked directly to declare yourself as being over 18 years of age. And once you enter the site you quickly understand why. The members of the site are very cash in their research and in the content they publish. On their profile, trans, transvestite or
transsexual lovers
post photos and videos of them, most often in overtly sexual postures, and accompany these images with messages that detail their fantasies and what they are looking for on PlanTrans. Thus, BeuretteTwerk, a transvestite living in Ivry Sur Seine, posts a video of his anus and declares to be looking for someone to format him and make him become a real transvestite, the biggest whore in paris. He also posts a video of him naked twerking and assures that it is indeed his ass in the photos. This is only an example but the other profiles on the site are up to date. If you are looking for a serious relationship with a transvestite or trans PlanTrans is therefore not for you. Here we are only looking for ass and the relationships sought are often of the dominant / dominated type.
Profiles registered on PlanTrans
When we consult the profiles of PlanTrans members, we find mainly 2 types of profile. On the one hand transvestites and some trans people, on the other hand men who seek to sleep with the first. On the profiles of trans and transvestites there are photos of them usually seen from behind, with their anus open, or in feminine outfits, and a text explaining that they seek to, we quote, get high. On the profiles of active guys we most often find dick photos, more rarely photos with bare face and shirt. By default the site will push you the geolocated profiles closest to you without distinction of sexuality but you can also use the search engine to search in particular for a trans, a transvestite, a bisexual or a hetero, in the city or department of your choice.
Registration on PlanTrans is mandatory
To benefit from all the features of the PlanTrans site you will have to register. An email address is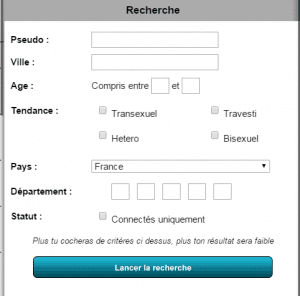 PlanTrans' search engine allows you to find precisely what you are looking for.[ /caption] sufficient to validate your registration. If you just want to consult the profiles and thumbnails of the photos published on the site you can do it as a free visitor, without having to give your email. If you sign up we advise you to do it from a specific address, PlanTrans members send a lot of messages and comments and you may well see your mailbox overwhelmed after you register and post photos of you. Be aware that anyone can see the profiles registered on PlanTrans, if your transvestite or trans amateur side must remain secret you will have to choose the photos you will publish on the site to keep your anonymity.
Sites like PlanTrans
If you like trans people and transvestites, the sites to find trans booty calls are not legion. We can nevertheless recommend the site www.TransexMessenger.com. Working with a messenger software to install on his computer, this site connects trans, transvestites and fans of the genre for meetings essentially focused on plan cul. Working it via software ensures members total confidentiality and will therefore allow those who live their sexuality in secret not to be visible to all on the internet. If you are only a voyeur, then we will recommend the site www instead.TranSexLive.com. Offering day and night webcams with transsexuals, transvestites and shemales from the Philippines, it is the largest trans webcam site. The models are based either in France or in Asia and are available in public show or private show. A site that will please all voyeurs who like to see trans people show off on the internet.
Promotion jusqu'au Minuit pour vos plans cul Gay
L'inscription sur
www.ForceGay.com
est gratuite en ce moment ! Pour profiter de cette offre, il suffit de s'inscrire et de valider que vous avez plus de 18 ans ! Et dès ce soir vous pourrez commencer à rencontrer des gay habitant près de chez vous et cherchant la même chose que vous. N'hésitez pas à tester, c'est gratuit, sans engagement et l'un des moyens les plus efficaces pour trouver un plan cul rapidement. Attention,
www.ForceGay.com
est réservé à un public majeur, une preuve de votre majorité vous sera demandé.